Emo Twinks features the horniest emo boys from the UK and Europe. Tender slim emos kissing and having very hot and emo-tional sex.

All I Need - Gay DVD - Studio: Emo Twinks
Emo's aren't the talkative types and come across as moody and aloof, but deep down they are sensual and passionate lovers who let their hands, mouths and tongues do all the talking. Unhurried kissing and heavy petting lets these twinks take their time as perfectly manicured hands slip under shirts and beneath waistbands to seek out hardening nipples and boyish boners that grow under a lover's tender touch.
Close To You - Gay DVD - Studio: Emo Twinks
Shy and sensitive they may be, but these Emo Twinks crave a smooth body, a fat cock and love nothing better than being "Close To You". Whether they're frolicking in the bathroom or giving head in a threeway chain suck in the bedroom, they want a fellow emo on their side – and in their arse! - who is as hot and lustful as they are! Buried balls deep into each other, these gay emo boys stretch tight twink holes and shoot creamy streams of boy spunk all over a cute face and hairless twink body.
Face Down - Gay DVD - Studio: Emo Twinks
These emo twinks may seem like indifferent loners, but that belies the fact that they are deeply erotic lovers. Pheromones are soon popping when perfectly manicured hands wander over taut, young bodies and little gasps escape pretty mouths as cocks are liberated, licked and sucked whilst fingers delve between ass cheeks to tease tight and twitching holes.
Me and My Buddy - Gay DVD - Studio: Emo Twinks
These Emos take bromance to the next level when they lead their buddy to the bedroom and plant their lips full on theirs. Reciprocated, the kiss gets heated as tongues entwine and hands that were holding the embrace snake over slender backs and edge downward to squeeze tight butt cheeks and hardening dicks. Making for the bed, these new lovers are eager to taste each other and take it in turns to swill and suck solid cocks and tight balls.
Mixed Feelings - Gay DVD - Studio: Emo Twinks
With teenage hormones raging, these twinks have Mixed Feelings as to whether they're in love or lust with their BBF. They've always swapped clothes and make-up tips, but now they're swapping spit and spunk – and they quite like it! None of these boys would ever be classed as alpha males in the true sense of the word, but they don't care as tender kisses and featherlite touches send shivers of excitement coursing through their bodies, making their nipples hard and their young cocks stand to attention.
Nothing But You - Gay DVD - Studio: Emo Twinks
Awash with teenage lust, ten inked and pierced, skinny jean loving Emo twinks get in touch with more than their feelings as they fuck and suck the day away in Nothing But You. Who knew these non-conformist boys were full of so much passion, but these boys are more than just a little horny and are aching for a mouth to slide into, a dick to satisfy their hunger and a tight ass to plunder.
Something To Love - Gay DVD - Studio: Emo Twinks
They may look strange with their piercings, tats and strangely coloured hair, but these young emos are looking for Something To Love – as well as wanting to satisfy an insatiable craving for smooth, taut flesh, juicy cocks and tight teen ass. The long and loving kisses and wandering hands are just a prelude to the start of a passionate make-out session that sees these cute couples exploring every inch of each other.
Sweetest Thing - Gay DVD - Studio: Emo Twinks
Being in love is the Sweetest Thing, but falling in lust is so much more fun, especially when these emo twinks show off their slutty side! With their multi-coloured hair, piercings and ink, these dour-faced dudes raise more than just a smile when they get together for an afternoon of fumbling fun! Passionate French kisses leads to tongues skipping lightly over smooth torsos seeking out boyish boners, whilst soft hands massage and squeeze tender buns.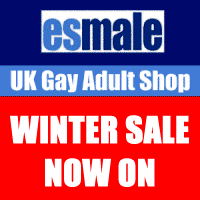 Esmale (UK Gay Adult Shop) sells a large range of gay adult sex toys including a range of fetish and restraint products, Cock and Ball play items, Whips, Paddles and Slappers, Blindfolds, Masks and Hood and are the UK stockist of Mr B leather and fetish products. They also sell a large range of men's designer underwear, condoms and lube, fleshjacks, jock straps and anal toys. Treat yourself!
Save an extra 10% on top of their already discounted prices with our exclusive code 'GAY10'. Click here to shop
See also: www.gayadultshops.co.uk